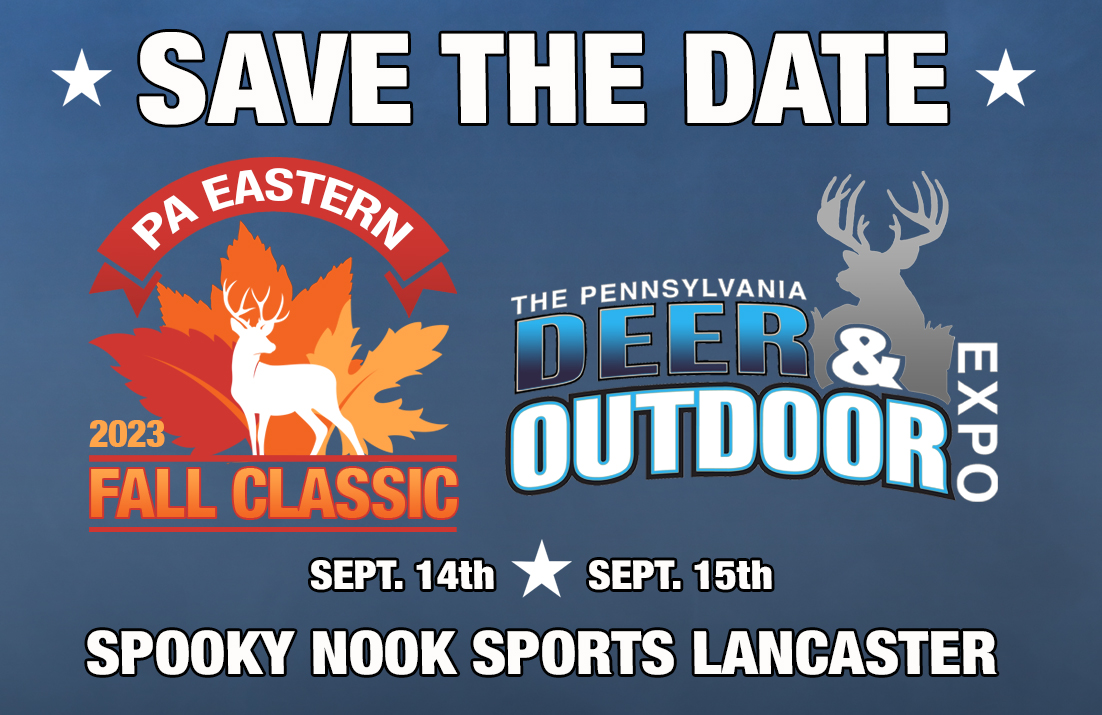 Save the Date for the PA Eastern Fall Classic and PA Deer & Outdoor Expo! 
The Pennsylvania Deer Farmers Association will be hosting The Pa Eastern Fall Classic Whitetail and Stocker Sale on September 14, 2023 and the PA Deer and Outdoor Expo September 15, 2023 The Sale will be held at SPOOKY NOOK SPORTS LANCASTER, 75 Champ Blvd., Manheim, PA 17545. The WAREHOUSE HOTEL at 75 Champ Blvd., Manheim, PA 17545 will be our host hotel. We have secured a block rate for our guests of $159. When booking please have guests call hotel 855-618-6181 and reference room block for PDFA Fall Auction Code: 12933 or book through our website at www.warehousehotel.com and use Group Code: 12933 – no later than Monday, August 14, 2023.
We will have more information sent out to our Members in the form of emails the closer we get to the dates of the event. If you have any deer you would like to put in the Sale or donations for the fundraiser please contact Bruce Snyder at 570-259-0051 or Tess Stevenson at the PDFA Office at 717-801-0533. We will be mailing out Consignment forms the beginning of July. Please call at any time & we will be glad to add you to the sale until the final Consignment date.
Thank you and we can't wait to see you September 14-15th 2023!
CONTACT
PDFA Office
717-801-0533
office@padfa.com
Lloyd Stoltzfus
717-768-3471
John Fisher
717-582-1896
Bruce Snyder
570-259-0051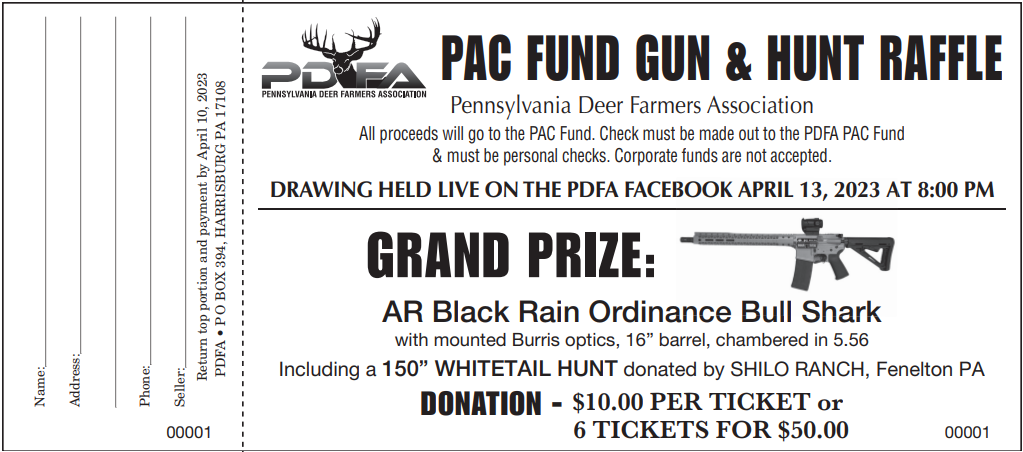 PAC FUND GUN & HUNT RAFFLE
The PDFA is selling raffle tickets to support our PAC fund that allows us to have a voice in Harrisburg with our legislators. The raffle winner will receive an AR Black Rain Ordinance Bull Shark along with a 150″ Whitetail Hunt that was generously donated by the Shilo Ranch in Fenelton, PA. The winner is responsible for clearance and any costs associated with the gun pick up or transfer.
The winning ticket will be pulled on April 13th on Facebook Live at 8:00pm. 
 All of the proceeds of this fundraiser will go to our PAC Fund. No corporate funds will be accepted. Tickets can be purchased with personal funds by check, cash or credit card. $10.00 per ticket, 6 for $50.00 or 12 for $100.00. Thank you for your support and good luck!